Finish Well, Start Strong
As we enter the last quarter of 2022, it's time to start thinking about ramping up your church's year-end giving strategy.

While there are a multitude of steps within a comprehensive strategy, we're going to focus on two fundamental steps that can easily be integrated — a year-end giving strategy and annual giving statements that mail out in January.

Implementing these two pieces are your initial next steps to building a giving plan that cultivates generosity in your church for decades to come. These two combined steps will create a fluid motion that not only allows you to finish well, but ensures your new year starts strong.
Looking for additional Year-End Giving Resources?
We've compiled a whole toolbox to guide you on creating your best year-end giving yet! You can access our full suite of resources at www.generis.com/2022.
Generosity Tips from Jim Sheppard
DISCIPLING HIGH-CAPACITY GIVERS
PRIORITIZING GENEROSITY + GIVING IN YOUR CONGREGATION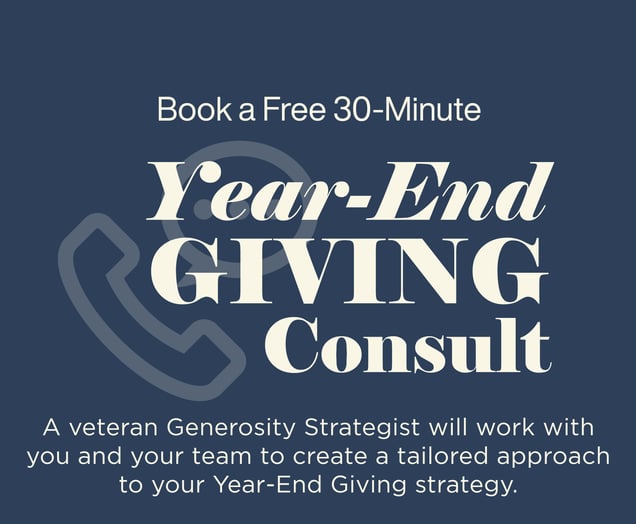 Generosity Workshop Series
It's difficult to talk about money, particularly when you're starting a new church but also when you are leading a growing church with constant new believers coming in the doors. How do you have a bold, biblical perspective on money without scaring people away? How do you disciple people in this key area of faith when so many are in different places financially? This session will deal with some of the practical and biblical narratives of gospel-driven generosity and how we can better communicate this aspect of discipleship to our people and help them grow.
More Episodes from the Generosity Workshop Series
From ideation to implementation, a veteran Generosity Strategist will work with you and your team to create a tailored approach to your Year-End Giving Strategy that is based on your church's unique culture, needs, challenges, and generosity goals.
Planning + Guided Execution, Preparation

Provided Content and calendar

Giving Data review

Maximize year-end opportunities

Major gift strategy and coaching

Provide case studies

Tax advantages during year-end

Finish the year strong
Past Generosity Now Editions