Chris Stovall, CFRE

Senior Generosity Strategist
Chris Stovall has over 30 years of church leadership and ministry experience. During that time, he has served in almost every capacity on a church staff including 15 years as a lead pastor and church planter. Prior to vocational ministry, Chris worked for several years in corporate banking. Along the way Chris also led several small start-up companies, maximizing profits to position each for greater success.

Chris has been consulting and coaching churches and nonprofits for over 15 years now. He has an extensive combination of both business and ministry experience that gives him a unique perspective in his consulting. Chris is very adept at helping churches and organizations strategize vision, discover opportunities out of obstacles, develop compelling communication for objectives, and layout a plan to accomplish their God-inspired dreams. Chris' passion is to see individuals discipled and grow spiritually in the area of giving and therefore see the culture of generosity in those churches and organizations grow as well.

In addition to his Certified Fund-Raising Executive (CFRE) certification, Chris has a BS in Business from Murray State University, a BA in Music from Western Kentucky University, and both an MA and MDiv from Luther Rice University. Chris married his college sweetheart Susy and they have two adult children.
About Building God's Way

Building God's Way believes that everything from mission and vision to facilities and finances is part of the same strategic conversation. At Generis, we believe that your God-inspired vision is fully realized through the development of a culture of generosity.

Generis has been helping churches and ministries accelerate generosity towards God-inspired vision for over 30 years. We connect your unique vision to proven strategies that have helped fund more than six billion dollars in the faith community with a make-it-last mindset. What we accomplish together will outlive the length of any single campaign, project, or initiative.

If you simply want to raise the funds you need to complete your project, you have many choices. If you want to weave stewardship and generosity throughout the very fabric of your ministry, Generis is the partner you are looking for.
2023 Fall BGW Event Dates

September 12 - Belton, TX
September 26 - Herndon, VA
October 10 - Walnut Creek, CA
October 17 - Apple Creek, OH
October 24 - St. Louis, MO
November 8 - West Palm Beach, FL
November 9 - Palm Coast, FL
Let's be honest; there are times when one-on-one guidance, encouragement and accountability brings out the best in us and accelerates our ability to chase down those big, audacious dreams. The Generis Coaching experience is designed to align with your greatest needs and is delivered over a period of time that makes the most sense for you.
No matter the size of your God-inspired dreams, it can be daunting to think about chasing down the necessary resources. The truth is that while vision almost always exceeds current realities, the means to support your vision is within your grasp.
With Generis, you're not alone. Our customized Campaign approach will help you assess, rethink and reframe your current reality, allowing you to reach your specific goals while also establishing a foundation for increased generosity overall.
From time to time, it can be extremely helpful to analyze the habits of your overall giving climate to see what is currently working as well as where opportunities for a culture of generosity to increase might exist.
The Generosity Assessment is a one-day experience that provides a thorough assessment of your church's effectiveness and reveals new opportunities for creating a culture of generosity. Think of it like an x-ray into the giving perspective of the church.
The Generosity Pulse Report offers a snapshot of the health of your generosity and stewardship culture.
By assessing the long-term health of your church's giving and providing a clear view of your current finances, the Generosity Pulse Report eliminates the guesswork and offers your team confidence and understanding of your financial reality.
What Can You Expect During a
Generosity Pulse Report:
Data Dive
After meeting your Generosity Strategist and a secure upload of your giving data, your Generosity Strategist will analyze your past giving data, review your current giving, and identify key trends.
Expert Recommendations
During a Discovery Session, your Generosity Strategist will review the findings in your data, provide expert recommendations, and go over your specific questions.
Gain Clarity
You'll have a clear picture of your church's current financial standing and understand that opportunities exist for greater giver engagements.
Accelerate Generosity
Now it's time to make a plan! Together with your Generosity Strategist, you and your team will develop a plan that fits your church's culture and context and helps you begin moving the needle on generosity.
RESOURCES -

Click to download
Download the Building God's Way Slide Deck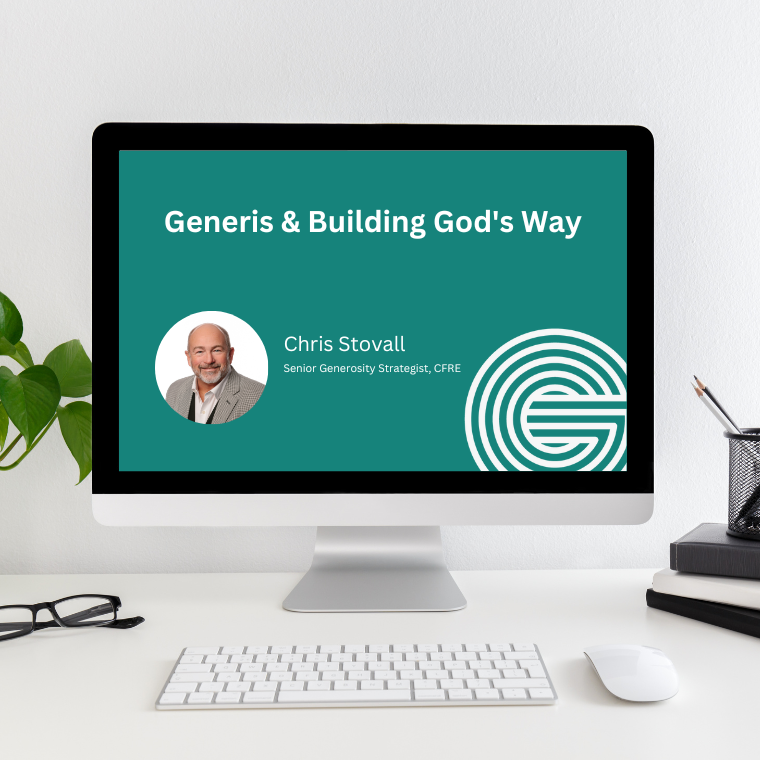 Download Chris' Slide Deck