Thanks for tuning in to the Bobby Albert interview
with Jim Sheppard on the True North Leader podcast!
We hope the conversation was beneficial to you and your team! Below you can access more resources from Generis, schedule a complimentary Generosity Pulse Report, or connect with a team member to learn more about Generis.
Budgets + Tithe
When a Journey Becomes A Destination
Are the people in your church struggling in their giving journeys? Would you even know it if they were?
Biblical stewardship and generosity is a journey that goes beyond the tithe and church budget. However, too often, we see local church leaders unintentionally limit their kingdom reach because their vision is tied to budgetary goals.
In this resource, we unpack the perspectives and vocabulary that might be limiting the spiritual growth of the people in your church and what it means to steward the resources that God has given His people.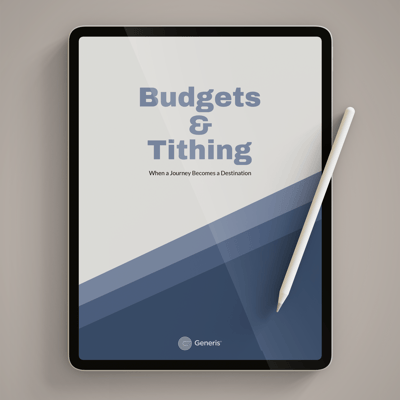 Giving is a journey. A life of progressive sanctification as it relates to our money and possessions.




- Jim Sheppard, Generis Principal
Generosity Pulse Report
The Generosity Pulse Report is a FREE snapshot of the health of your generosity culture.
By assessing the long-term health of your church's giving and providing a clear view of your current finances, the Generosity Pulse Report eliminates the guesswork and offers your team confidence and understanding of your financial reality.
What Can You Expect During a
Generosity Pulse Report:
Data Dive

After meeting your Generosity Strategist and a secure upload of your giving data, your Generosity Strategist will analyze your past giving data, review your current giving, and identify key trends.

Expert Recommendations

During a Discovery Session, your Generosity Strategist will review the findings in your data, provide expert recommendations, and go over your specific questions.

Gain Clarity

You'll have a clear picture of your church's current financial standing and understand that opportunities exist for greater giver engagement.

Accelerate Generosity

Now it's time to make a plan! Together with your Generosity Strategist, you and your team will develop a plan that fits your church's culture and context and helps you begin moving the needle on generosity.
Our goal is to help you move past the, "How do we pay for this?" conversation.
About Generis
Regardless of your ministry's size and scope, there is almost always a gap between your resources and your God-inspired vision. Generis exists to help close that gap by partnering with leaders to develop a thriving culture of generosity in their church—a culture that is discipleship driven, biblically rooted, inspires mission impact, and funds your God-inspired vision for years to come. By taking biblical principles, best practices, and 30 years of experience plus your church's unique culture and DNA, we build a plan that will begin accelerating generosity in your church.